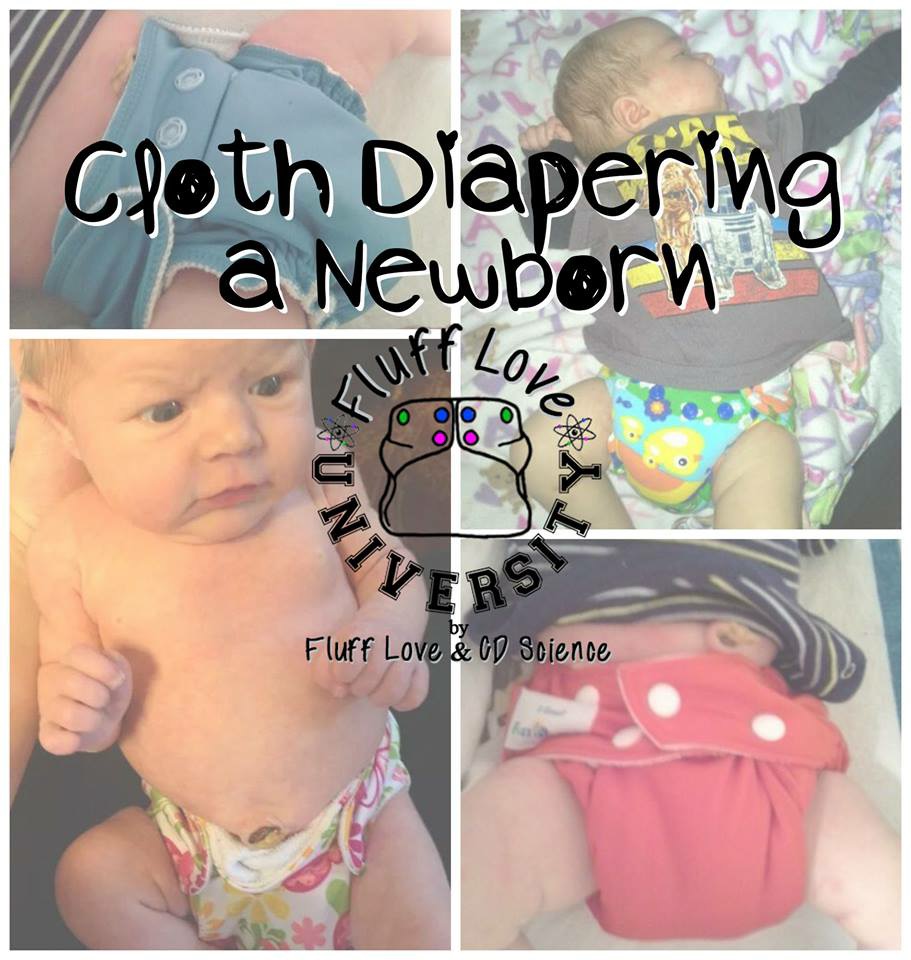 When using cloth diapers on a newborn, you've got a few different options. You can do it cheaply. You can go simple. You can make it easy for dad. You have options!
Supposedly one-sized diapers don't actually fit most newborns very well. Newborns generally have skinny legs, leading to leaks around the legs holes. For this reason, we usually recommend investing in a newborn stash if you want to cloth diaper from the get-go. The good news is that you can usually buy a newborn stash secondhand in very good shape, since it isn't used for very long, and you can also sell off your gently used newborn stash for close to what you paid for it.
The downside of a newborn stash is that teeny-tiny diapers often have teeny-tiny levels of absorbency. Many babies outgrow the absorbency of their newborn diapers before they outgrow them in size.
How many newborn diapers do you need? In general, a newborn will go through roughly 12 diapers in a 24 hour period. You'll need 3-4 diapers to hold you over while you wash. So, if you decide you'd like to wash every day, you'll want 16 diapers. You'll need 28 if you prefer to wash every other day. That count refers to the actual diaper – the part that needs to be washed after every use. If you're using flats, prefolds, or fitteds with covers, you'll need 28 of those, and roughly 10 covers. You can count on a cover handling 4-5 changes, as long as it isn't soiled.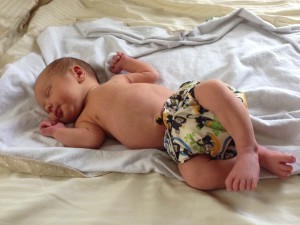 Option 1: Cheap and simple
Prefolds or flats are the cheapest, simplest way to cloth diaper a newborn. Both flats and prefolds are rectangles of absorbent fabric that are folded around the baby and secured with a Snappi, Boingo, or old-fashioned diaper pins. They require an extra step of folding, but once they're on, they provide good absorbency. Flats are the only truly one-sized diaper, and can be used on preemies and preschoolers alike. Prefolds come in several sizes.
The fastener keeps the prefold or flat attached around baby, so that the lovely newborn poop doesn't go everywhere. Newborn poop will, if left to its own devices, be EVERYWHERE, I promise, so you need to do what you can to contain it. For this reason, you may want to hold off on padfolding the prefold or flat until the baby is a few months old, and stick with the snappi during the newborn phase.
You'll need a cover of some sort over your flat or prefold. Generally, you need to use a newborn-sized cover on a newborn. Wool, fleece, and PUL are good options. PUL is what "standard" diaper covers are made of, and they can be wiped with a baby wipe and used for several changes, as long as they're not visibly soiled. Wool requires hand washing and lanolizing. If the wool isn't soiled, you only need to wash and lanolize every few weeks. However, you do need to handwash the cover if it's soiled, and newborns are more likely to soil their covers. It's pricey, as compared to your other options, but it's breathable, comfy, and the resale value is awesome. Fleece is comfortable, like wool, but it's cheap (usually less than $8 per cover) and a cover or fleece pants can easily be made by anyone who is handy with a sewing machine. It can be used a few times without laundering, provided it isn't damp. Fleece can be thrown in the washer and dryer, making it a nice option for newborns.
Option 2: The middle ground
Fitted diapers are a great choice for newborns. Fitteds are made of absorbent material that wraps all the way around the baby, providing great leak protection and preventing poop-splosions. They're generally a bit quicker and easier to put on the baby and don't require any folding. Fitteds sometimes have snaps or velcro, and they sometimes need a fastener such as a snappi. Like prefolds and flats, a fitted needs a cover to be waterproof.
GMD workhorse fitteds are a very popular option for newborns.
Option 3: Quick and easy
Pockets and AIOs are options for newborns as well! These make for super easy, quick changes for anyone who may be unfamiliar or uncomfortable with cloth diapers, or for you in the middle of the night. They go on just like a disposable. The downside to these is that if your baby is a peanut (read: teeny tiny) he or she will likely begin out-peeing these diapers before he or she grows out of them and fits into one size diapers. Pockets and AIOs are sometimes more likely to leak around the legs.
So what should I buy?
The following charts show three different sample stashes at three different price points. Note that anything marked with an asterisk can continue to be used beyond the newborn period. Additionally, you can generally sell a newborn stash for 50 – 85 percent of the cost of buying new. And of course, you can buy your stash used for cheaper than listed here. Some savvy moms are able to buy their stash used and then resell it for the purchase price, essentially getting their newborn stash for free.
You can also rent a newborn stash from several online cloth diaper retailers.
Sample newborn stash 1: Budget
6 cotton Osocozy prefolds, $13
6 Cloth-eez cotton flats, $12*
5 flour sack towels, $5*
5 Assunta tiny covers, $5.49 each
3 snappis, $9.35*
Total for 17 changes = $66.80
Sample newborn stash 2: Mid-range
12 Cloth-eez cotton prefolds, $2.09 each
6 Cloth-eez cotton flats, $12*
3 Green Mountain Diapers snapless workhorse fitteds, $5.25 each
3 Nicki's NB Bamboo AIOs, $9.95 each
3 Assunta tiny covers, $5.49 each
3 Thirstie's size 1 covers, $10.35 each
3 snappis, $9.35*
Total for 24 changes = $139.55
Sample newborn stash 3: All out
6 Cloth-eez cotton prefolds, $2.09 each
5 Hemp Babies hemp flats, $10 each*
6 Green Mountain Diapers snapless workhorse fitteds, $5.25 each
2 Sustainablebabyish snapless mini fitteds, $22 each
6 Nicki's NB Bamboo AIO diapers, $9.95 each
2 Little Joey's AIOs, $15 each
3 Blueberry Simplex NB AIOs, $18.95 each
5 Blueberry Mini Coveralls, $16.95 each
3 snappis, $9.35
Total for 28 changes = $378.69
Circumcision Care:
*** Before beginning, let's address the fact that this is a touchy subject. It is NOT up for a debate. The choice to circumcise or not to circumcise is that of the family.We do NOT provide education or information on this topic here, and do not encourage one choice over the other. We are sharing this information for those who need information on how to care for cloth diapers after circumcision. Be respectful.***
When a doctor performs a circumcision, they will generally tell you how to care for it. Some require no extra steps, while other methods do. If your doctor advises you to take no special precautions you can go straight to cloth with no worry.
The typical care method would be a thick glob of petroleum jelly (Vaseline) over the area, covered by gauze, and changed every diaper change. This can last 3-7 days depending on the physician.  You may check with your doctor if any cloth diaper safe creams will work as a barrier.  Check out our page on diaper creams for reference.
Now, of course petroleum jelly can cause repelling in cloth diapers, especially with synthetic fabrics. In that case, you'll probably want to take a few extra steps.
To start baby out in cloth you can protect your diapers by using a liner. A cut up t-shirt or sheet, dry baby wipes, a piece of cloth-like paper towel, or you can use those dry circle make-up removers.  You just lay the insert on the diaper, put on the petroleum jelly and gauze and close the diaper.
Disposables are always an option too, if you feel too nervous to put petroleum jelly anywhere near your cloth. For those who want to go right to cloth, there are ways to make it work!
If any petroleum-based cream or ointment somehow gets on the diapers, they are not ruined! Simply dab a drop of blue Dawn dish soap into the spot and scrub it with a toothbrush. Be sure to scrub well, and RINSE THOROUGHLY before adding to your dirty diaper laundry. Dawn is a major degreaser, and should never be used in any automated machine as it can strip the oil from the working parts and break it. Synthetic diapers are more prone to repelling issues due to petroleum-based creams, while natural fibers generally come clean with a proper wash routine.
**No special diaper care is needed for intact boys.**
Pseudomenstruation/Circumcision Bleeding:
If you choose not to use a liner or the liner slips, the circumcision site may get blood on your diaper.  Similarly, some baby girls have what's called pseudomenstruation (sometimes referred to as "brick dust") after birth, which is caused by the mother's estrogen and is a blood-tinged vaginal discharge.  This is totally normal.  If blood gets on your diapers you may use hydrogen peroxide or an oxygen bleach product such as Oxiclean to remove any blood stains.
Don't Fear the Meconium:
Many parents are afraid that putting a newborn in cloth exposes their diapers to the evils of those first poops.  Tar-colored, sometimes horrifying, and a little intimidating–what's with that consistency??  In reality, we've found that it rinses out with little staining, if any.  You may use a liner if you are truly worried, but simply rinsing off the diaper and applying your favorite stain removal spray before tossing in the pail or washing machine should suffice.
Fluff and Birthing Away from Home:
Many people wonder how many cloth diapers they need to bring if they're birthing away from home.  Most sources state that for newborns you should count on using 4-6 diapers per day for the first few days.  If you're not sure how long you'll be in the hospital or birthing center, you might want to bring extra or send your significant other back home to do diaper laundry or grab more diapers. It's also good to be aware that each baby is different and various circumstances could alter the baby's output. If you're concerned and have the room, bring extra. After you get home, output will likely increase with time and it's safe to expect to use 10-12 diapers per day at that point.