Home >> Idea Center >> Cloth Diaper Storage
Whether you want to showcase your fluff or store it in a functional way it can often feel overwhelming to set up your diaper changing station with cloth in mind. Here, we give you examples from our very own Facebook group members!
Small Stash Storage (0-25 Diapers)
Arrakis R.: "We have mobile storage. Small basket for upstairs in the living room and big basket goes in the laundry room downstairs. Baby doesn't have her own room and we don't have the space for permanent storage till we are done with college and not living with family."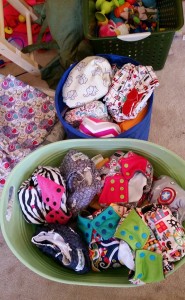 Jackie L.: "We don't do diaper changes in the bedroom, so this is my solution for the living room, the storage box holds about 20 stuffed pockets, and the drawer holds liners, coconut oil and wipes."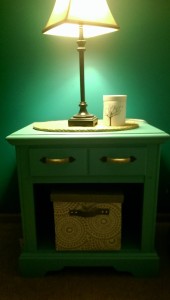 Lisa F.: "Honestly, I have no idea the brand as I bought it second hand from a fellow mama who was going to toss them!"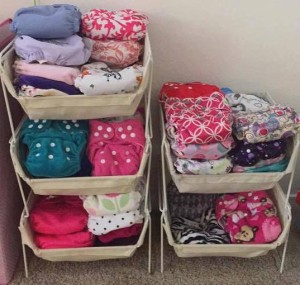 Katie F.: "The lazy way :)"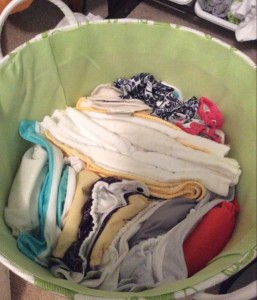 Kristen M.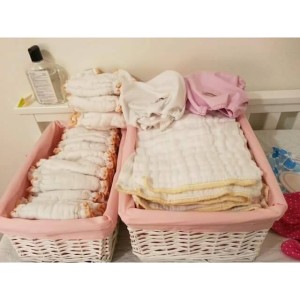 Crystal T.: "I just use a normal change table with coloured tubs from the dollar store."
Heather Y.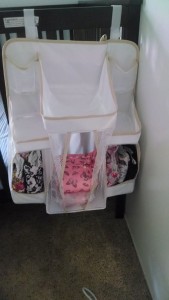 Jessi S.: "Prefolds, liners, inserts, and Snappis on the shelf. Covers and fst in dollar store baskets on that shelf. Diapers in the crib because we cosleep."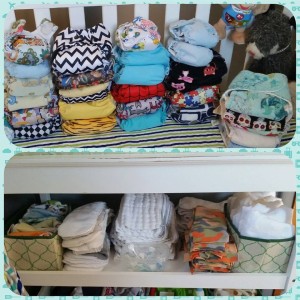 Samantha K.: "My very cheap diaper/changing table solution. The top white shelf is a shelf we found on a garage sale site for $5. The wooden one below it is made out of wood materials boxes from my husband's work, the shelf brackets were $1.99 for both. The bottom of the changing table has 3 Dollar Tree fabric baskets, and beneath the changing table is an old plastic under the bed box for fitteds. The changing table was free from an exchange group. So well under $15 for all."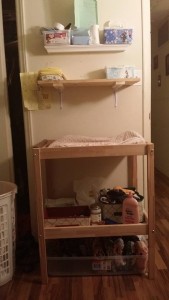 Cristina E.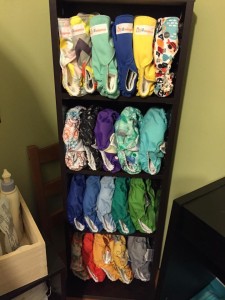 Lynn B.: "Over the door shoe rack."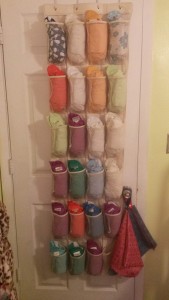 Tiffany S.: "Crib and changing table combo. Works great. Flats/prefolds on top, and pockets/AI2 on the two drawers.
On the right side, a regular hamper with large wet bag. Works great and no stink!!"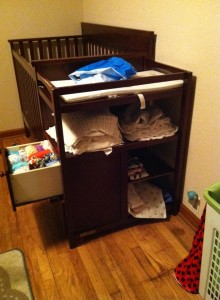 Lynne G.: "Nothing fancy, but it works and I love it! Eta: The white shelf is just a shelf I got from a yardsale with a storage bin on top with extra pail liners, inserts, and the other half of my stash that I rotate through. The wooden case is for cd's and all my diapers (at least the ones in this pic) are prestuffed covers or pockets. I have the shelf on the end of a large dresser with my changing mat right beside."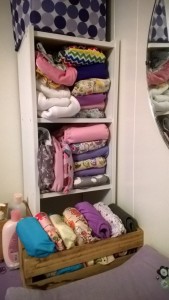 Caitlin W.: "We bought some crates at Jo Anns and stained them. They fit diapers and inserts perfectly!"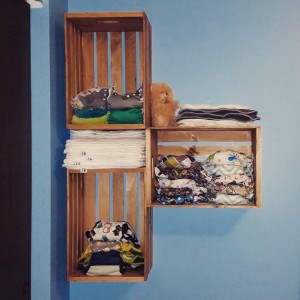 Kelly C.: "Pack n Play storage!"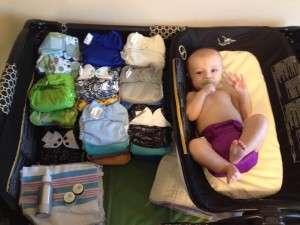 Eva C.: "We also use our pack n play. During the day we use covers with prefolds/fst and prestuff pockets for nighttime."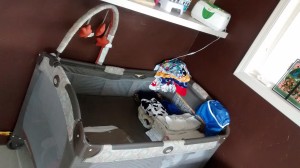 Dizzy D.: "A dear family friend made this deep, long, skinny basket for our wedding. It's perfect for our diapers. There are about twenty diapers on the bottom (that you can't see) and then you can see about ten on top of those. It's portable, too. We have a much smaller basket for wipes that often sits on top of the diapers. We have another square basket next to this that holds ointments, water, and ends up being a catch all."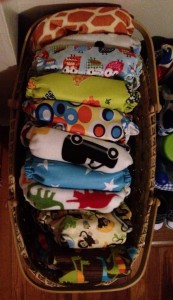 Mid Size Stash Storage (25-50 Diapers)
Meredith B. : "Hangs on the door. From Walmart for less than $8."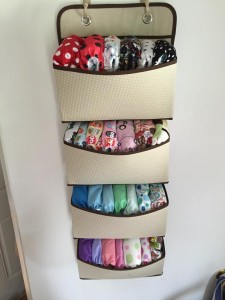 Karen H.: "We have a workbench with a cube unit (both tethered to the wall) top left, fitted diapers 2 deep, top right fitted with hidden pul, middle left pul pockets, middle right all in ones, bottom left cloth wipes (with warmer), bottom right disposables. We use the tidy cats container on the floor as our pail. You can fit 4 stacks of diapers in each cube about 5 to 6 high."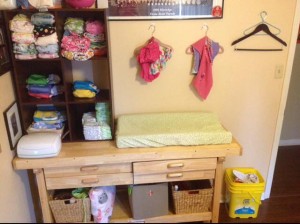 Amanda P.: "Each 'tier' has room for 14 pockets in it. The bottom has my hemp inserts, FST, and holds 6 pockets. The basket has wipe spray and cloth wipes. The paper towel roll is my liners. I have 40 pockets. If I get anymore, I need new storage."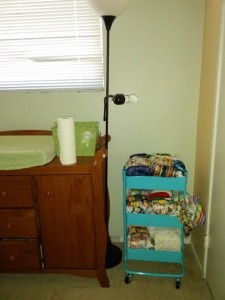 Ashley M.: "Dresser drawers!"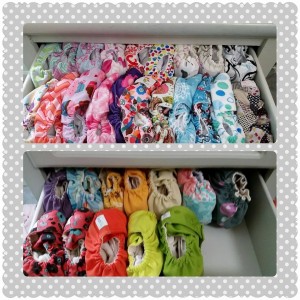 Lashae P.: "My area holds 33 diapers and can add more"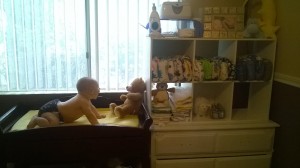 Whitney S.: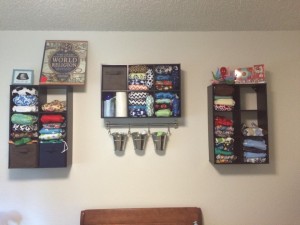 Jodi A.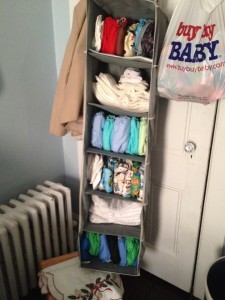 Andreana T.: "On the changing table shelf. Diapers stacked in the front with extra wipes and inserts/prefolds behind. Nice and neat and all in one place."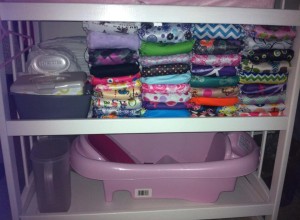 Samantha J.: "Just a set of shelves we repainted to match her nursery."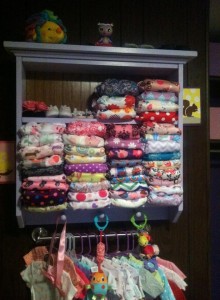 Crystal M.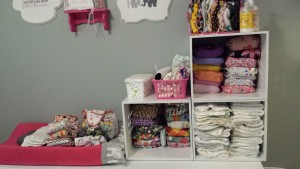 Caitlyn B.: "We just use the shelf on her dresser/changing table."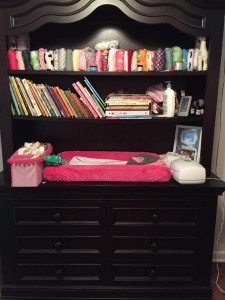 Bree O.
Jennifer M: "Wooden crates on the wall using large metal L brackets."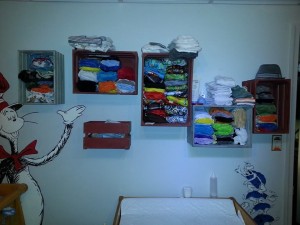 LeTisha D.: "Cube storage from target, chalkboard cubes from target, chalk markers from hobby lobby. I love it!!"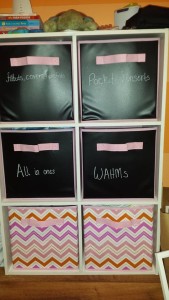 Stacey S.: "This is our diaper storage! Shelf is a dvd rack from ikea… and holds about 60 all in one diapers"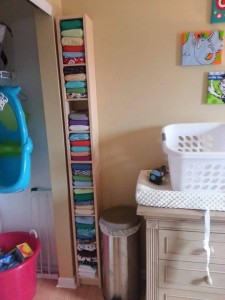 Brie N.: "Our fluff organization shot. Not all fluff is there, but you get the idea. $6 in thrift store baskets lined w a fst. Then string and hooks to attach to the wall and an old crate for the inserts."
Large Stash Storage (50-100 Diapers)
Boni L.
Chrystal-Lynn F.: "Just started cloth about a month ago and I rigged up a closet storage shelf! it fits all 57 diapers and 2 inserts for each."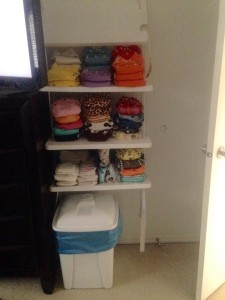 Victoria V.: "Repurposed bookshelf."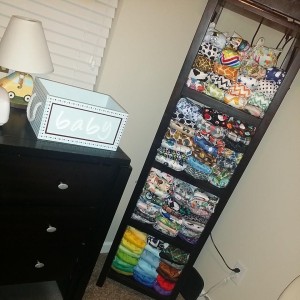 Sara P.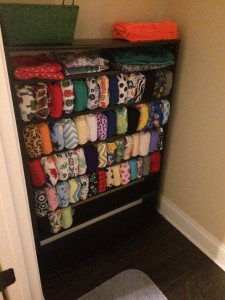 Brenna B.: "CD (compact disc) shelf! Fits perfectly!"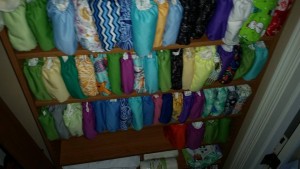 Meri M.: "Re-purposed dry sink from my mother-in-law."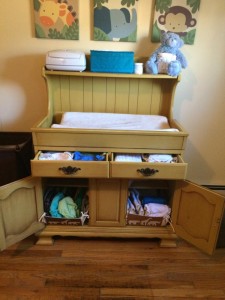 Sara P.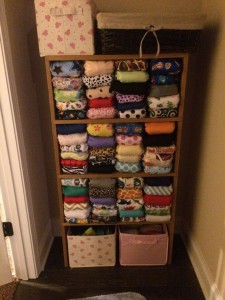 Shannon M.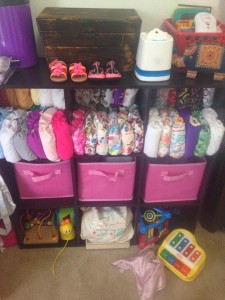 Tiffany V.: "Super convent to just grab and change well we will see if baby ever gets here."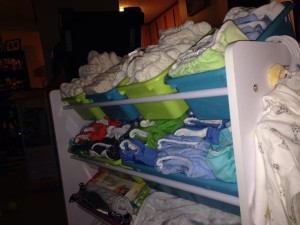 Tiffany B.: "Changing table storage here. Top row is different inserts, (left to right) cbi and mf, fst pad folded, bamboo and hemp. Bottom row (left to right) is diapers: pockets, aio and covers. Last one is wipes, wipe solution, diaper creams, etc."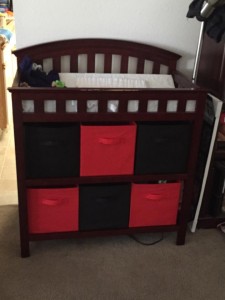 Jocelyn B.: "Closet maid mini cubes! Each cube fits 5-7 diapers depending on how I stuff."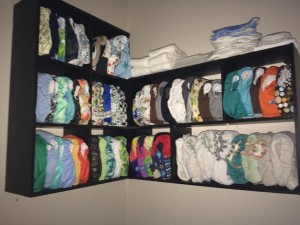 Destiny K.: "I use the changing table. Nickis covers, Best Bottoms covers, Grovias covers, and Nickis Aios. Underneath storage [and] cloth wipes, prefolds, bamboo inserts, and hemp inserts [in the drawer organizer]."
Amy G.: "Ikea shelving turned into a changing table with book shelf to the left for diapers."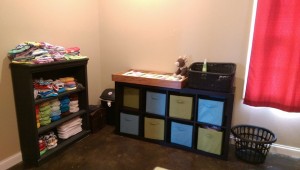 Kristina W.: "Mini cubes."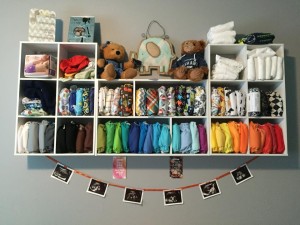 Evette W.: "This utility cart from Ikea holds around 45-50 diapers. Here I have pockets, AIO, stuffed AI2, fitteds, and covers. http://www.ikea.com/us/en/catalog/products/30216536/?preferedui=desktop"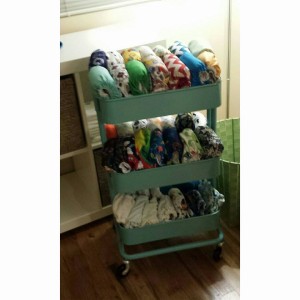 Jessica K.: "ts a munchkin cart organizer (i think that's what it's called)
You can get it for super cheap anywhere online.
I only use grovia shells with prefolds or soaker pads."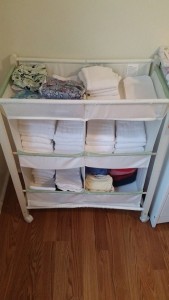 Christina T.: "I store our dipes under our living room tv. Very convenient considering our house is so small and that's the room we are always in. But now we have an actual diaper pail and liner instead of the garbage can!"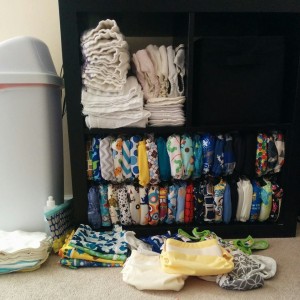 Shannon M.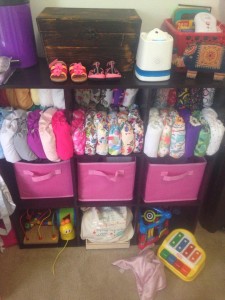 Extra Large Stash Storage (100+ Diapers)
Brandi M.: "Bookcase, a second bookcase, and the changing table holds the current rotation."
Danielle D.: "Mine is fuctional , but ugly . this is one of the towers i have. i have two more like this. each drawer fits anywhere from 5-10 diapers depending on how i stuff. this fits all my diapers, i have over 150ish pockets now, around 200 prefolds, and around 30ish covers? i also have a ton of cloth wipes, the container on top holds my diaper pins and snappies."
Brandi O.: "Book shelf. Keeps them higher up and displayed since I like to see our fluff!"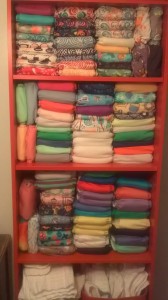 If you have a unique storage solution you'd like to share please email us at fluffloveuniversity@gmail.com with a photo and details!