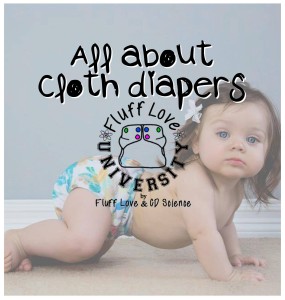 Ever get confused by all of the different diapers out there?  Well, you're in the right place!  Freshman Orientation will give you an overview of the many different options out there for diapering your babes.
You can also check out our Cloth Diapering Cheat Sheet for an overview of essential cloth diaper information.
How many cloth diapers do I need?
That depends on a few variables, like the age of your baby, how heavy a wetter your baby is, and how frequently you want to do laundry. We usually suggest the following size stashes:
Newborn — Minimum 12 – 15 changes to do laundry every day; 24 – 36 to do laundry every other day.
3 Months and older — Minimum 10 – 12 changes to do laundry every day; 20 – 30 to do laundry every other day.
What types of cloth diapers should I buy?
You'll have to experiment to find out! Different people like different styles and brands, and what works for one baby may not be a great choice for another baby. Whenever possible, we always recommend trying out at least two or three different types of styles or brands before committing to a whole stash. Some online retailers do trial or rental programs; these can be a good way to experiment. To learn more about specific brands of cloth diapers, including user ratings, check out our cloth diaper brand index.
Here's a brief overview of types of cloth diapers. Click on the link to learn more about each.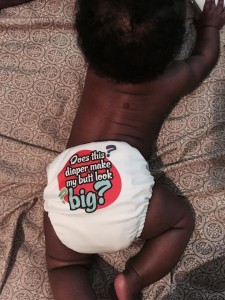 All in ones (AIOs) are one of the most convenient diaper options, particularly for non-CD savvy caregivers! These diapers are the most similar to disposables. There's no stuffing, no folding, no messing around. Just wrap it around baby and snap or secure the aplix. Many parents like having at least a few AIOs in their stash, since they're so easy to use. Click here to read more about all in ones.
All in two/hybrid (AI2s) systems offer some great features…  They come in two pieces – inserts and covers.  Most have offer either snap-in, lay-in, or disposable inserts.  The covers can be wiped and reused throughout the day (unless poo escapes!) with fresh inserts.  They are often trim and offer a variety of options within one system. Click here to read more about AI2s.
Pocket diapers are a great option for many families!  A pocket consists of a PUL/TPU water resistant layer and a stay dry liner (often microsuede/microfleece) sewn together on 2 or 3 sides.  Most pocket diapers come with microfiber inserts.  A great advantage to pockets is the ability to customize the absorbency.  If you have a small baby or light wetter, a single microfiber insert will likely suffice.  If you have a toddler or heavy wetter, you can add additional inserts or stuff with more absorbent options – charcoal bamboo inserts, prefolds, flats, hemp, bamboo, etc. Click here to read more about pocket diapers.
Flats/flour sack towels are single layers of fabric, typically birdseye/cotton.  They can be folded around baby and secured with pins, snappis or boingo clips, pad folded and laid in a cover or stuffed in a pocket.  One great things about flats/FSTs is that they wash and dry easily since they're only a single layer of fabric.  Super easy to get clean and pop right in the dryer.  FSTs are often easier to find, cheaper than traditional flats and just as trim and absorbent!  They're often available from retailers like Target or Wal-Mart for $1/e a (in packs of 4 or 5.)  Flats/FSTs are SO customizable and easy to pair with other inserts and types of diapers. Click here to read more about flats.
Prefolds are rectangles of fabric sewn together with more layers through the middle of the diaper.  They come in many sizes and options – newborn, baby, toddler, bleached, unbleached, etc. These can be folded around baby and held together with pins, snappis or boingo clips.  They can also be trifolded and laid into covers.  Prefolds can be folded in many different ways to customize the fit and absorbency.  They can also be stuffed into pockets. Click here to read more about prefolds.
Covers come in many different types. Covers are generally made from either PUL, wool, or fleece, and are work over prefolds, fitteds, or flats to make them waterproof. PUL or TPU covers are a single layer of water resistant fabric, secured by either aplix or snaps. Many are "tuckable", with flaps to hold an insert or padfolded flat or prefold inside. Fleece covers are usually pull-on and are made from anti-pill or windpro fleece.  They're frequently made into shorts or long pants, doing double duty as a diaper cover and pants or pajama bottoms. These are easy to care for – just toss them in the laundry! Wool covers are most often made from knitted wool, interlock (felted wool) or upcycled from wool sweaters. Wool needs to be hand washed and lanolized. Once it's properly lanolized, wool is an awesome overnight option and only needs to be washed every 2 – 4 weeks. Click here to read more about diaper covers.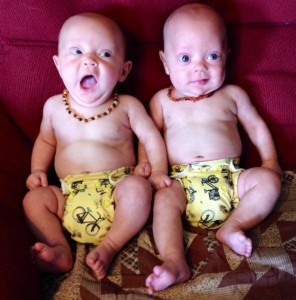 Types of Inserts:
Pocket diapers require the use of an insert to absorb wetness. Additionally, you can use inserts to increase the absorbency of other types of diapers.
Microfiber (MF) inserts are fully synthetic, and the most common inserts. They are white, and have extraordinary wicking properties. As such, they are the only inserts that CAN NOT go against baby bums, as they will draw the moisture right out of the skin. There are companies that make inserts with MF on one side, and then something like microfleece on the other side, which CAN go against baby. Microfiber absorbs VERY quickly.
Charcoal Bamboo (CBI) are bamboo on the outside, and microfiber on the inside. They are black in appearance, with or without stitching in the middle. The bamboo on the outside of this insert means it can go directly against baby bums. It absorbs relatively quickly, though slower than microfiber.
Bamboo inserts are effective and very absorbent, but absorb much slower than CBI/ MF. They are extremely soft and usually a mix of bamboo (rayon) and cotton.
Hemp inserts are quite absorbent, but like bamboo, absorb very slowly. They do well paired with something that absorbs faster, or are great for children who don't 'flood'. Like bamboo, they are very soft, and a mix of cotton and hemp.
Prefolds, flats and FSTs can also be used to stuff pockets!