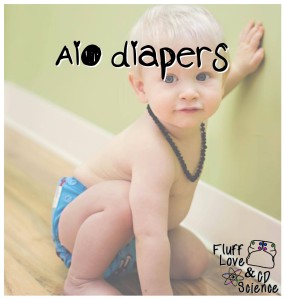 All in ones (AIOs) are one of the most convenient diaper options, particularly for non-CD savvy caregivers! These diapers are the most similar to disposables. There's no stuffing, no folding, no messing around. Just wrap it around baby and snap or secure the aplix. Many parents like having at least a few AIOs in their stash, since they're so easy to use.
An AIO consists of a waterproof outer layer (typically PUL or TPU) and an attached absorbent inner layer, which can be made of cotton, bamboo, hemp, charcoal bamboo, microfiber topped with cotton, velour, or other similar fabrics. Most AIOs are one-sized, meaning they'll fit babies from about 12 – 30 pounds. AIOs also come in newborn sizes. A few brands of AIOs are still sized (small, medium, large, etc), but this style is less common nowadays.
Like pocket diapers and covers, AIOs can be secured with snaps or with aplix (Velcro).
The pictures below show the insides and outsides of four different cloth diapers (clockwise from top left: A Blueberry Simplex, a Bumgenius Freetime, a Nickis Bamboo AIO, and a Padded Patootie). Though each is constructed in a slightly different way, they're all similar in that the main absorbent portion of the diaper is attached to the waterproof outer shell. Check out the video at the bottom of the page to get a closer look at AIOs.
AIO Pros:
 Super easy to use — just snap or Velcro it onto the babe.
Great choice for grandparents or babysitters, or for changes out and about.
Can be very trim.
Many cute styles, colors, and prints.
Some styles have pockets or snaps that allow you to add additional absorption.
AIO Cons:
Some AIOs take a longer time to dry, since there are many layers of fabric sewn together.
These are generally the most expensive style of diaper.
AIOs have to be washed after each use.
May not be a good overnight option.
Some styles make it less easy to customize absorption.
Some popular brands of AIOs:
Alva AIOs, $6.40
Blueberry Simplex, $28.95
Bumgenius Freetimes, $19.95
Bumgenius Elementals, $24.95
Chelory AIO, $32.95
Grovia, $23.95
Happy Flute AIOs, available through coops, approximately $8
Moraki,$27
Nicki's Bamboo AIOs, $14.95
Ragababe, $34.95 (sells secondhand for more than retail)
Smartbottoms, $25
Thirsties, $18.95
Tots Bots Easy Fit, $24.95