Ju-Ju-Be is a pretty big name in the diaper bag world! These two bags are super popular, but without much information on packing them for cloth, I was super excited to review them side by side. While researching the bags, I discovered a few features they have in common, but it was hard for me to tell just HOW much bigger the BePrepared is over the BFF. With two under two, I need plenty of space on our outings, but I also don't want to lug around a giant heavy bag that's simply more than I need.
Look and Feel
Both bags are made of a Teflon-coated material, which repels stains and spills. They feel smooth, but don't look "plastickey" at all. Using a Teflon-coated fabric rather than a vinyl definitely improves the look and feel of the bag. The satin-looking inner lining is a light, bright pink, which makes digging into the bottom of the bag to find a wayward pacifier a much easier task than if it were black. The linings are also coated with some fancy pants anti-microbial stuff, which means even when food gets ground into the bottom of the bag, it should remain odor-free. And if Teflon and anti-microbial coatings weren't enough, the darn things are machine washable. It's like they've met my kids.
Every little detail of these two bags is thoughtful. The zipper pulls have little rhinestones. The shoulder straps have swivel clasps on both ends, which makes it a lot easier to wear the bag and keep the straps from getting twisted. The top flap of the BePrepared can be tucked down into a little pocket to make it into an open tote, or it can be zipped closed. The BFF opens from the front, rather than the top, which makes life a LOT easier when I'm wearing it as a backpack and ask my husband to dig something out for me. There are fleece-lined pockets, which protect your phone and sunglasses from getting scratched or dirty. And the "crumb drains," when I read about those I was thinking "so…it's a hole in the bag?" but they're actually very discreetly placed and obviously useful (I poured probably a pound of goldfish crumbs out of my other diaper bag in preparation for packing these two up).
Side by Side
But which one do you want? I like charts with checkmarks for this sort of thing, so I made one:
B.F.F.
BePrepared
Wear as a backpack
 ✔
Wear as a messenger bag
 ✔
✔
Short carry strap
 ✔
✔
Use as open tote bag
✔
Color-coded pockets inside
✔
Small fleece-lined phone pocket
✔
Magazine pocket
✔
"Mommy pocket" with keys strap, fleece sunglasses pocket, and photo pockets
✔  (the photo pockets are in the main compartment)
✔
Included memory foam changing pad
✔
✔ (this changing pad is larger than the one in the BFF)
Gusseted extra-wide opening
 ✔ (opens from the front)
 ✔ (you can unzip the sides of the bag to open it wider than it is as the open tote,  but you can still access it from the top when it's zipped)
Insulated outer pockets
 ✔ (open on top so a tall bottle sticks out)
✔ (has a flap with magnetic closure)
Can fit my baby inside
 ✔ 

(That's probably not safe. Don't carry your baby in a diaper bag.)
So, those are a few of the differences in the two bags. Let me also stress how BIG the BePrepared is. That sucker is HUGE. Like, you can get stroller clips for it, but there's no way you'd ever hang it on a lightweight umbrella stroller. Fully packed, it could easily weigh more than my toddler and stroller combined. When they say it's perfect for an overnight or weekend trip, they're not kidding, this bag is MASSIVE. The BFF, on the other hand, is a much more reasonable size for day-to-day carrying, especially if you're just running errands and not going on an all-day outing.
The packing list!
 8 stuffed pocket diapers (4 toddler, 4 infant)
Wet bag
Package of disposable wipes
Spare toddler outfit (2T pants and shirt)
Spare infant outfit (cotton footie pajamas)
Muslin swaddle blanket
2 silicone teethers
Sippy cup filled with Goldfish crackers
2 fruit puree pouches ("fruit goo")
Wooden spelling toy (to throw when we are angry, obviously)
Toddler hoodie ("Are you cold?" "Um…no." "You're shivering." "Um…no.")
Little things: Chapstick, hair ties, snappi, teething tablets, spare pacifier, etc.
Mommy's sunglasses
Mommy's water bottle
Mommy's day planner (also, mommy's sanity)
Pen
Keys
Phone (not pictured, since it's also my camera)
Wallet
Tula baby carrier (I don't plan to just lug this around in the bag, but I may need to take it off and stuff it in there at some point.)
I started with the BFF, and laid everything out on my coffee table for a picture. That's when things became rather….daunting.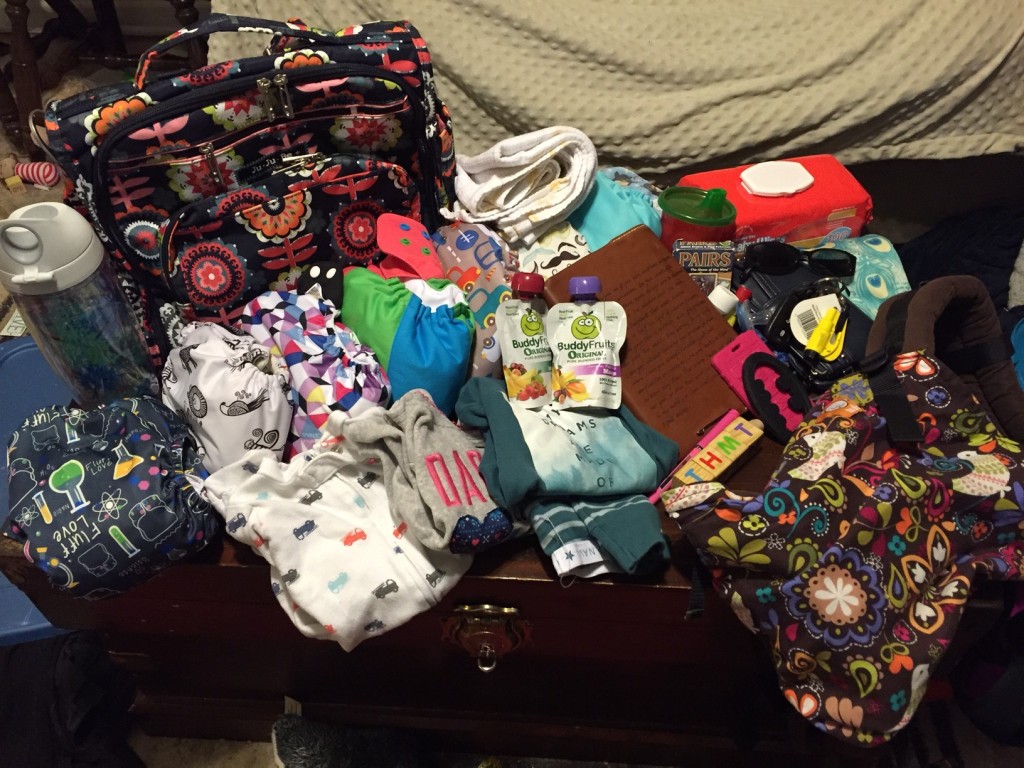 That's a lot of stuff to fit in the bag!! Check out packing all this stuff in the two bags side by side:
B.F.F.
BePrepared

Empty, the BFF looks very intelligently designed. There are several pockets inside, including two flat zipper pockets on the back that I can't quite find a use for. The open pockets are larger, though, and seem more useful to me. Also, note the photo pockets! Very cool and thoughtful addition.

The BePrepared is MASSIVE inside. In this picture you can see the mesh pockets on the walls of the bag; the pink tabs are easily seen here. The tabs on the opposite side are printed, making it easy to figure out which kid's stuff is in which pocket. Very convenient! The mesh pockets on the sides are also useful, and very generously sized.

I stuffed all 8 stuffed diapers in there, but realized that 8 diapers in this bag really took up quite a lot of room. And honestly, when have I ever used 8 diapers on a normal outing? So I dropped down to 6 – 3 for my toddler and 3 for my infant – which allowed me to tuck the wetbag and muslin swaddle into the bottom layer. Honestly, had I used a smaller system than pockets (like packing spare soakers and only a couple covers, instead of entire diapers) I would have been able to fit all 8 changes easily, but I normally use pockets, so in the interest of a real review how I'd really use the bag, pockets it is!

The BePrepared, on the other hand, swallowed all 8 diapers whole without any trouble, plus took on the wetbag and muslin blanket in the handy-dandy side pockets. Seriously, this bag was like "OM NOM NOM DIAPERS, FEED ME MORE!" and just had a ton of room to spare.

The package of wipes, my toddler sweatshirt, and my infant footie pajamas got stuffed on top of the diaper layer. And by stuffed, I mean STUFFED. I initially tried to include the spare outfit for my toddler, but it just wasn't happening, so I pulled it out and set it aside.

Here, you can see the toddler sweatshirt in the pink tabbed pockets, and the spare outfit is underneath it. The footie jammies are in the opposite pocket. I also found room to tuck the two fruit goos next to the footie, which was nice, because I didn't want my daughter to see them and flip out every time I opened the diaper bag. The wipes fit nicely on top, but I pulled them out for the picture.

My water bottle and the sippy cup filled with goldfish tucked nicely into the insulated bottle holders on either side of the BFF. If I were bottle feeding, I have no doubt that these pockets would be great to keep a bottle of milk or formula cold! They're very generous, considering how flat they lay when not in use.
The bottle and sippy also fit really well into the BePrepared, but neither one could have the flap closed over it. I think a baby bottle could easily be tucked in there and have the flap closed, though, so that would help with insulation. The flaps were pretty unassuming even when they weren't shut with their magnetic closures, though, and it was nice to have the magnets so you aren't fiddling with snaps while trying to get a bottle out for a hungry (screaming) baby.

Next up, the Mommy Pocket! My keys are hooked onto the key lanyard, which I realized after I clipped them on is probably intended for house keys or a keyless entry fob – the clip is very sturdy and the keys don't just pop on and off with great ease, so you'd probably want to leave them attached to your bag most of the time. Obviously that's hard if you have to start your car with them!

My sunglasses tucked right down into a special sunglasses pouch, which I LOVE. I rarely put my glasses in my diaper bag because I wear prescription glasses, and putting on my sunglasses means stuffing my regular glasses into a world of scratches and smudges. This will solve that problem  AND it makes finding the sunglasses a breeze, even with one hand. Have I mentioned how easy it is to find stuff with one hand in this bag?

Were I not using it to take pictures, my phone would be tucked into this center fleece-lined pouch. Having it in the center instead of front makes me feel a little more secure about carrying it on my back, and the fleece will protect the screen and keep it from getting scratched or smudged as well. Yay!

The Mommy Pocket on the BePrepared is much larger. The fleece glasses pocket is still there, as well as several mesh zipper pockets and an open mesh pocket at the bottom. There's not a dedicated phone pocket, but there's plenty of room to tuck it in there. Also, note the photo pockets here as well. I adore this feature!

Here's the pocket with my glasses, keys, and wallet inside, as well as some of my little doodads tucked into the printed pocket. As you can see, there's still plenty of room for other things!

I added my doodads and wallet to the BFF, and at this point it was basically stuffed full. I managed to wiggle in the silicone teethers underneath the wallet, and then there really wasn't any room to stuff my Tula inside, no matter how much I wanted to! I also still had my day planner out, which was an absolute NEED!

I added the wallet and the last couple little items to the BePrepared, and was also able to tuck in a Pairs deck and my day planner (which isn't pictured here, I guess I jumped the gun on that one). This bag definitely has more room for "mom" things. As an aside, that flat zipper mesh pocket at the top left, what the heck is that for?

I tucked my day planner into the back pocket next to the changing pad, which was plenty comfortable to wear as a backpack. It was pretty snug down in there, which I liked. For scale, this is a regular sized Moleskein notebook with a fancy cover on it 🙂

I still needed to tuck in the fruit goos, which I found room for at the top of the main compartment. They also would have fit in the mommy pocket, but I was worried about them getting stabbed with a snappi and busting open all inside my bag, so I put them here.

This pocket is made to have the top flap tucked down into it so you can use the bag as an open tote without the flap getting in the way. It was hard for me to understand what they were talking about when they described this on the Ju-Ju-Be website, so I thought I'd picture it here for you.

In tote-bag-mode, I just tossed the wipes on top of everything, and bam! That is one packed bag!

My fully packed BFF, as well as the things I wanted tom include that just didn't fit. Are these things necessary? Nah, not really. I mean, I could keep the change of clothes for my toddler in the car, and she kind of hates that spelling toy anyway. The extra diapers probably wouldn't get used on a normal outing, so I wasn't really worried about them. Overall, the BFF certainly held plenty of everyday essentials, and doesn't weigh too much. It's also still very comfortable to carry as a backpack, or with the long shoulder strap!

And my fully packed BePrepared. Obviously there's a lot more room in this bag! It did end up weighing a lot more, but if I were going to be out for an entire day with both kids, I think this would be the bag of choice. The best part is it's still not full! I could tuck my travel folder in there, or any number of other things, and there's still a bit of room left in the main compartment. Which reminds me, didn't I mention a Tula earlier?

Just one last note, the changing pads from the two bags. The larger one is from the BePreparead, and the smaller one from the BFF. The smaller one seemed a little scant for toddler changes, but really any portable changing pad would be. The larger one has plenty of room. One nice thing is that both pads are super squishy and they both fit perfectly in their respective bags. And so cute!
My Tula stuffed down into the main compartment without much trouble! I wasn't able to zip it closed, but the Tula effectively prevented anything from falling out, so that's fine with me.
So, which one?
Obviously which bag is right for you is a very subjective thing! Each of these bags is awesome in its own way, but they're very, very different. The BFF is a fabulous bag for everyday carrying. Even with two under two, if you're not going to be out and about all day, it has ample room and pockets for cloth for both kids. The backpack straps make it fabulous for babywearing, which makes my life a whole lot easier when it comes to grocery shopping! I can put my toddler in the cart, my infant in the Tula, and wear the diaper bag on my back without any trouble. The bag has plenty of pockets for everything, and the front "mommy pocket" makes getting to my wallet at the end of the shopping trip a whole lot easier. I also like that the bag didn't waste time with things like credit card slots – don't most people carry a wallet anyway? – and that they considered things like the fleece glasses pocket.
The BePrepared, on the other hand, really lives up to its name! If you're an over-packer, if you have multiple kids or are heading on an all-day or even overnight outing, or if you need to carry bulkier items like coats (I live in the South, so that's not a problem for me!) then the BePrepared has got you covered. There's truly ample room for anything you could possibly want! This is the bag I'll be carrying with me through the airport when we travel, because not only does it have enough room for everything, but it has nifty features like the magazine pocket, which I can use to store my travel documents folder (which has passports, birth certificates, boarding passes, and the FAA regulations regarding using a car seat on a plane). The larger changing pad is fabulous for all those particularly gross times, like when you're stuck changing baby on the floor of a Taco Bell restroom (seriously, it should be a law that all restrooms have to contain changing stations!) and if you have twins, you may even be able to get both babies on the same pad when they're really tiny. But even with as big as it is, the bag is still practical enough for day-to-day use if you need the extra room! The ability to use it as an open tote makes reaching in and grabbing something a breeze, and the ability to unzip it means that nothing is ever hopelessly lost at the bottom of the bag. The color coded tabs on the pockets are awesome if you have two kids, or even if you just want to separate your stuff from your kid's stuff. They really did an awesome job thinking of every detail of this bag!
Final Thoughts
I've gotta say, I'm a huge fan of BOTH of these bags. They're not both for everyone, but each of them does what it does in a really fabulous way. Every single detail on these bags is thought out, from the fancy zipper pulls to the metal feet on the bottom of the bag. As a bonus, if you check out Ju-Ju-Be's website, you'll notice that many of the prints are pretty gender neutral. That means dad won't be embarrassed to carry the bag, which can make everyone's life a whole lot easier. The bags feel sturdy and high end, and in my opinion, they're absolutely worth the money!